Swedish Mammography Cohort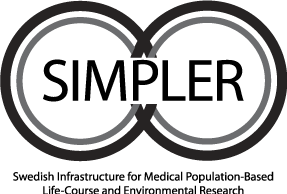 The general aim of the study is to assess a wide range of modifiable lifestyle factors (diet, dietary supplements, physical activity, smoking, alcohol, body weight and other anthropometric measures, etc.) and genetic factors in a large population-based longitudinal cohort of Swedish middle-aged and elderly women.
Extensive questionnaire-based data on diet and other lifestyle factors enables studies of relevance for primary and secondary prevention of cancer (common and rare types), cardiovascular diseases, type 2 diabetes, osteoporosis, neurodegenerative diseases, age-related cataract, rheumatoid arthritis, lower urinary tract symptoms, chronic obstructive pulmonary disease, obesity etc.
Extensive register-based information on health status facilitates studies of multimorbidity, polypharmacy, ageing, and overall and cause-specific mortality.
Biorepository with a broad spectrum of samples (saliva, blood, urine, adipose tissue, faeces), complemented with clinical data, enables studies of genetic factors and other factors of relevance for detection of biomarkers for early diagnosis and progression.
Start Year

1987
Visit SMC
Study design

Cohort

Follow Up

After baseline, participants were followed-up three times for updated exposure information, in 1997, 2008 and 2009.
Information on health status is updated every year by linkage to registries.

Supplementary Information
Harris H, Håkansson N, Olofsson C, Stackelberg O, Julin B, Åkesson A, et al. The Swedish mammography cohort and the cohort of Swedish men: study design and characteristics of two population-based longitudinal cohorts. OA Epidemiology 2013 Oct 01;1(2):16.
Number of participants

66,651

Number of participants with biosamples

14,904

Supplementary Information

Saliva sample: 8744 participants
Clinical subcohort samples (Cycle 1): 6231 participants
Clinical subcohort samples (Cycle 2): ~400 (June 2016; ongoing)
Availability of data and biosamples
| | |
| --- | --- |
| Possible Access to Data | |
| Possible Access to Biosamples | |
| Other | |
SMC population
The cohort is composed of women born between 1914 and 1948 and residing in the Uppsala County of central Sweden and in the adjacent Västmanland County at the time of recruitment.
Selection Criteria
Gender

Women

Minimum age

39

Maximum age

76

Newborns

Twins

Countries

Territory

Uppsala and Västmanland Counties (central Sweden)

Ethnic Origin

Health Status
Recruitment
Sources of recruitment

General Population
Number of participants
Number of participants

66,651

Number of participants with biosamples

14,904

Supplementary Information

1987: 66 651 participants
1997: 39 227 participants
2008: 30 621 participants
2009: 25 332 participants
Saliva sample: 8744 participants
Clinical subcohort samples (Cycle 1): 6,231 participants
Clinical subcohort samples (Cycle 2): ~400 participants (June 2016; ongoing)
Data Collection Events
#
Name
Description
Start
End
0
SMC - 1987 (baseline)

The questionnaire was sent by mail and included information on diet and alcohol intake, parity, age at first birth, family history of breast cancer, weight, height, education level and marital ...

1987-03
1990-12
1
SMC - Registries

Information from health registries is updated every year (1-2 years delay).

Incident cases of cancer were ascertained by record linkages of the study population with the National Swedish ...

1987-03
2016-12
2
SMC - 1997 (2nd follow-up)

The second questionnaire collected information on diet and alcohol intake, dietary supplements, family history of cancer and myocardial infarction, age at menarche, history of oral ...

1997-09
1997-12
3
SMC - Clinical exmination (Cycle 1, recruitment 1)

Participants from Uppsala were invited to participate in a health examination including measures of height, weight, waist and hip circumferences, blood pressure and a DXA scan. Additional ...

2003-09
2009-09
4
SMC - Saliva
Saliva was collected at different time points between 2005 and 2008.
2005-01
2008-12
5
SMC - 2008 (3rd (a) follow-up)

The 2008 questionnaire collected information including general health status, disease diagnoses, current body weight, height, waist and hip circumferences, dental health, medication use, sleep ...

2008-09
2008-12
6
SMC - 2009 (3rd (b) follow-up)

The fourth questionnaire collected information on diet and alcohol intake, dietary supplements, smoking, physical activity and sun habits.

2009-04
2009-12
7
SMC - Clinical examination (Cycle 1, recruitment 2)

In a second recruitment round, additional SMC participants were invited for inclusion in the clinical subcohort. As in recruitment 1, the women took part in a health examination including ...

2010-04
2015-09
8
SMC - Clinical examination (Cycle 2)

Women who participated in the first SMC clinical subcohort in 2003-2009 are currently recruited for repeated collection of biological samples and clinical measurements.

The women take ...

2015-10
2016-12